The November 16th Town Council meeting was five hours long, but for my money the most compelling part of the evening was a 15-minute span in which several speakers spoke about the American Legion property. The town bought the property in 2016 with the intention of building a park and housing on it. 
Up first was Virginia Gray, who has petitioned the town to not build any housing on the Legion property and instead transform it into a community park. She claims the property is the "only open space available that's left in the town to make a park." (No mention was made of the 12-acre Ephesus Park, which is adjacent to the Legion property and about 900 feet as the crow flies from a home Gray owns). 
With a flair that cast members of the Real Housewives would find a bit over the top, Gray claimed that:
Keeping all 36 acres of the Legion property a park is important to our "survival"

Affordable housing is "not going to matter" without such green spaces

The Legion property is "comparable to Central Park in New York City" because of the "tall structures" surrounding it
Gray then pivoted to what I have come to recognize as classic Chapel Hill boomer entitlement, warning council to vote the ways she wants or risk losing their seats. For good measure, she tossed out some Joni Mitchell lyrics, reminding us that "you don't know what you got till it's gone." 
Later, a different speaker, Yvette Mathews from the Community Empowerment Fund, described exactly what it's like to know what you had before it was gone. But instead of "losing" a small portion of the 36-acre park abutting the existing 12-acre park in your neighborhood, this speaker described losing your home and not having anywhere to live: "I see people every single day, who work in this community, but live in their cars, okay, they work in this community, but they live on the street. So if you want to really make an impact and do something for people who are suffering … where we live, then I think that affordable housing should be the priority. "   
Sandwiched between Gray and Yvette Matthews was Richard Mitchell. I assume he's not related to Joni Mitchell, but she did once write a song called the Last Time I Saw Richard. If you know the song, you know Richard is not a super fun guy to hang out with at the wurlitzer.
Like Joni's Richard, ours appears to have a cynical outlook. Mitchell is the leader of Save Legion Park, a group that sprung up not to protect the park – we're getting a substantial park – but to oppose the affordable housing that might adjoin the park. In his presentation, he emphasized that petitioners who are opposed to the development of housing on the Legion property are not simply against building homes for humans on the site, rather they are in favor of building other things, like a space for dogs to play and a pier for fishing. Priorities, I guess.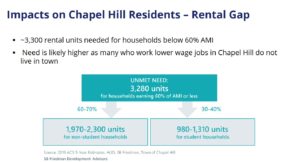 A Council subcommittee recently formed to make high level recommendations for the property. They have called for the site to developed with 8-9 acres of affordable housing and the remainder (~40 acres total, including the Ephesus Park site) to be developed as a park (though, taxpayers should take note, by abandoning the opportunity to sell a portion of the land for market rate housing, it is not clear where the town will get the money needed to build a park). 
Still, the committee's recommendations are a reasonable compromise that should make everyone happy. We get a really big park and much-needed housing, as the plan has been all along. Hooray, right? 
Not for everyone. In a November 29 newsletter from CHALT, an anti-housing organization that swears it's not an anti-housing organization, CHALT argues against any housing being built on the Legion property (they also describe the wholly unremarkable property as a "source of fascination to all visitors," which is a good hint that they are in full propaganda mode on this issue). According to CHALT, "a goal of a 100% community park is the only option that benefits the entire citizenry." 
I suspect people sleeping in cars may feel differently about that.